Pocket Aces' lifestyle channel Gobble, in collaboration with Dewar's double-aged Scotch Whisky by Bacardi, is back with the third season of 'You Got Chef'd!'.
As house parties become the next big thing, Chef Ranveer Brar, along with celebrity guests, take you through culinary paradise with global cuisines paired with delicious highball cocktails.
The latest season has double the fun with Arjun Kapoor, Tahira Kashyap, Pratik Gandhi and Rohan Joshi, cooking their gourmet creations and pairing them with highballs in each episode. They engage in fun banter and conversations around topics they are passionate about, ranging from breaking gender to cooking stereotypes.
Dewar's has been the official brand partner for 'You Got Chef'd!' since the beginning and season 3 will get more exciting cocktails and challenges for the viewers. The highball cocktails made from Dewar's Scotch whisky by Dewar's brand ambassador Greg Benson are paired to further enhance the global cuisines and dishes that will be prepared this season.
In this season, Chef Brar will host popular celebrities Arjun Kapoor, Tahira Kashyap, Pratik Gandhi and Rohan Joshi, whose cooking skills are put to the test as they attempt to earn points and win the title of 'You Got Chef'd!'. Under the supervision of Benson and Myles Carroll, the guests will be challenged to try bartending tricks that 'boost their chances of winning. Taking cues from the brands messaging 'Double is Better', this season will 'Double the Difficulty' in the efforts taken to earn points.
Alongside unravelling over global cuisines and highball cocktails, the celebrities will be seen revealing some memories that they associate with the dishes they prepare.
Arjun Kapoor will be seen preparing a dish from London that takes him back to the time he starved during a Chelsea match. Tahira Kashyap reminisces about her pregnancy days of eating 'Panjiri', which is similar in some ways to the New York dish she prepares. Pratik Gandhi is reminded of his role in Dhunki, which involved a lot of cooking, while trying his best to make a Singaporean dish. Rohan Joshi, while preparing a Japanese dish, discloses how shocked he was to learn about people's eating patterns in Japan.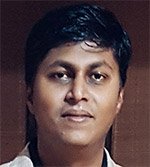 Vijay Dev
Vijay Dev, Consumer Marketing Lead, Whiskies at Bacardi India. said, "You Got Chef'd! helps bring out the finest cocktail and food pairings alongside fun banter and highlights the amazing occasions at home and otherwise to experience with Dewar's. We hope consumers enjoy this season as well and try their hand at these easy-to-make Dewar's highball cocktails."
Benson said, "As Dewar's continues to champion innovative Scotch whisky highball cocktail experiences for consumers across the world, You Got Chef'd further enable the brand in doing so. Especially, at a time when consumers are actively seeking to experiment with easy-to-make cocktails at home, we will help them take their highball cocktail experiences a notch higher through the show. With Chef Brar as my co-host for the second consecutive season, I am elated as the two of us together effortlessly bring out the Double is Better spirit."
Ankit Chhabra
Ankit Chhabra, Channel Manager, Gobble, said, "Thanks to our unique offerings, viewers are hooked to Gobble for lifestyle content, resulting in our audience base having tripled over the last two years. After the success of the previous two seasons, we decided to push the boundaries and make our guests attempt more difficult cuisines in this season. The idea was to have our viewers experience global culture from the comfort of their homes. It is going to be super fun to watch the audiences' favourite celebrities putting their culinary and bartending skills to the test. We could not have been happier with the line-up for this season."
Vishwanath Shetty
Vishwanath Shetty, VP, Sales and Brand Solutions, Pocket Aces, said, "With every passing season, we have been able to widen the scale of the show in terms of production and viewership. Dewar's, our brand partner, has been on board for three consecutive seasons for one of Gobble's 'Impact property', making this our longest association with a brand for a given series. This goes to show the merit brands seek in our content and hence choose to associate themselves with it. We have been able to initiate conversations with potential brand partners, taking into account the strong backing of our previously successful associations. This gives other brands an opportunity to visualise different ways in which they can integrate themselves into seamlessly flowing content like ours and witness scale year-on-year."
Dewar's x Gobble 'You Got Chef'd!' Season 3 airs from June 29 on Gobble's YouTube channel. In case you missed the last season, gobble up on Season 2 where Chef Ranveer Brar cooks with celebrities such as Nakuul Mehta, Arjun Kanungo and many more.