Influencer marketing agencies have since the beginning been the buoyant force behind the growth of the Rs 900 crore influencer marketing industry in India, which is now slated to touch Rs 2,200 crore by 2025.
Independent influencer marketing agencies have carved a niche for themselves in the A&M space. They are not just giving a run for money to several well-established ad agencies, but have become an industry size pegged between Rs 500-1000 crore with over 150 set-ups operating in India, according to experts who have knowledge of the domain.
In this story, BuzzInContent.com explores the growth story of influencer marketing agencies in India.
The growth trajectory of influencer marketing agencies
Started in 2019, Iplix Media now works with over 40 brands and has grown by 500% in a year. Neel Gogia, Co-Founder, Iplix Media, told BuzzInContent.com that if the growth continues to be at the same scale as it is, the agency will be touching the Rs 100 crore mark by the end of this financial year.
Neel Gogia
Gogia said, "Today, we are exclusively working with 40+ influencers in the country, including the likes of Saloni Gaur, Tech Burner, Nikhil Sharma, Neha Doodles, etc as a part of our talent management wing. On the other hand, our influencer marketing team has worked with global brands like Skillshare, Audi, Samsung, etc. We are also very closely associated with the start-up ecosystem, some leading start-ups that we work with are Cred, MamaEarth, Kapiva, Plum, Noise, etc. Our plan is to strengthen the talent management wing in the upcoming year by increasing the influencer number to 150, with close to 40 from the Middle East."
Similarly, Mad Influence began with a single office in Noida and has now expanded to locations in Mumbai, Bengaluru, and Dubai. The agency has grown from a three-person team to a team of 60 or more. The agency generated revenue worth Rs 50 crore in the last financial year.
Gautam Madhavan
Gautam Madhavan, Founder and CEO, Mad Influence, said, "I believe we are on track to work with nearly 5,000 to 6,000 influencers per year. On an annual basis, we now have a scale of over 10,000 influencers. For influencer marketing, we handle 50–70% of the Bollywood media business. We aim to double this each year."
One of the early starters in the influencer marketing ecosystem, OpraahFx's revenue has grown by 345% since inception. The company is expected to cross the 500% growth margin this fiscal.
Pranav Panpalia
Pranav Panpalia, Founder, OpraahFX, told BuzzInContent.com that having started in 2017, it has completed five years in the world of Influencer Marketing and Management. "We got into the space when brands and consumers weren't even rightly aware of the term 'influencers'. Initially, it was a roller-coaster ride for a year as we had to make the brand understand this new tool of marketing from the scratch. We saw our share of ups and downs then. We started with managing two YouTubers in 2018, and today we exclusively represent 45+ creators across YouTube and Instagram. To date, we have delivered 500+ campaigns for 100+ brands with a network of 10,000+ influencers."
Whoppl, launched as an influencer marketing agency and has expanded into three verticals namely: Influencer Campaigns & Strategies, Whoppl Studio and Whoppl Commerce. Whoppl has projected to deliver Rs 10 crore revenue this year.
Ramya Ramachandran
"We are on the verge of expanding and creating an ecosystem where everything is available for brands under one roof. We started Whoppl with the purpose of having creative influencer-led campaigns which have a strong voice and where the communication of the brand becomes very seamless and organic," said Ramya Ramachandran, Founder CEO, Whoppl.
Vavo Digital was launched in September 2020 and in a year and a half, the agency has generated revenue of approximately Rs 2.5 crore+.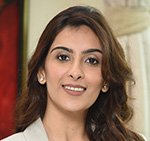 Neha Puri
The agency's CEO and Founder, Neha Puri, said, "We are not only just generating revenue, but we are also growing as a team. The objective is to double our growth revenue in comparison to the past year. Also, with our new initiatives and projects, we aim at capturing a larger market by penetrating deeper into the ecosystem of start-ups, influencers and content creators. While we have established a strong market for influencer marketing, we also aim at developing a knowledge disseminating platform for influencers."
A recent agency on the block, Creators Gram is on a fast track to set up pop-up creator spaces across the country to bring brands and influencers closer and provide better production services too. The company started with a team of three and now employs more than 40 professionals working with creators, influencers, celebrities and brands. Since March 2021, Creators Gram has welcomed over 800 influencers into their creator community.
For the upcoming year, the platform has chalked an all-encompassing multidimensional growth plan, to sustain its momentum and expand its business portfolio. Gaurav Jain, Founder of Creators Gram, said, "Looking at the current growth in the market, Creators Gram estimates revenue of $4 million by the end of the financial year 2022-23. With the plans of global expansion, setting up multiple creator pop-up spaces and creator-led brands will be a key focus moving forward, enabling a change in the way influencers have been dealt with in businesses and other collaborations."
Not just influencer agencies, but several influencer technology platforms have also bloomed during the last 2 to 3 years. Qoruz, which is an influencer marketing insights and analytics technology platform based in Bengaluru has been growing by 100% since its launch.
Praanesh Bhuvaneshwar, Co-Founder and CEO, Qoruz, commented, "As brands continue to depend on influencer marketing, we've seen our growth increase exponentially. In fact, last year we recorded a 350% growth. We have about 6,000 marketers using the Qoruz platform, along with 25,000 searches on the platform per month. We are expecting 3X growth this year."
Influencer marketing agencies compete with each other basis of differentiated offerings

There are already more than 150 registered and unregistered influencer marketing agencies existing in India. With the scope of growth in this space, many new ones are expected to enter the market. It becomes really difficult to stand out and offer something unique to influencers and brands.
Puri of Vavo Digital said that they ventured into the realm of building AR Filters, curating jingles for short video apps, Moment Marketing, and hashtag trending on Twitter as a result of technological breakthroughs. "We provide guaranteed engagement based on the Instagram algorithm, content ideation, as well as blogs to evaluate the product, which will assist boost the website & SEO and provide reputable backlinks. We design especially curated influencer marketing plans for our clients keeping in view the commercials based on the needs/budget of the client. Hence, while all digital marketing platforms offer an array of services to their clients, we add much more to it in terms of providing a 360-degree vision and a detailed plan for their growth," Puri said.
Panpalia of OpraahFX said that his agency is highly driven by numbers. "We don't just mediate the deals between brands and influencers. Rather we provide complete 360-degree solutions for their marketing and promotional campaigns. From ideation to strategy to content to PR, we do it all," he said.
Madhavan of Mad Influence believes that them being one of the early movers in this space has helped them have an upper hand over the others. He explained, "The relationships we have with our micro and macro-influencers are the first and foremost thing that sets us apart, owing to the fact that we are one of the earliest agencies in the influencer marketing industry. So, when we first started with 10 or 100k followers, we had a lot of time to communicate and gel with these influencers. They are now in their millions. Second, when TikTok existed in India, we were the frontline agency for it. We were the first agency to grasp the concept of short videos, long before reels and YouTube shorts became popular."
For Qoruz, unlike traditional agencies and tech-enabled agencies, it owns a product. The Qoruz platform regularly updates influencer profiles across categories based on different metrics. This helps brands work with the current performing influencers rather than the same set of influencers that are offered to them by an agency or otherwise.
Bhuvaneshwar added, "Qoruz is the only Influencer platform that provides the costs and direct contact information of influencers. Having a vetted set of influencers helps make the TAT of influencers revert higher and faster than if you approach them manually or via an agency."
Gogia of Iplix Media boasts to be one of the few players in the ecosystem that caters to the needs of both creators and brands with dedicated talent management and influencer marketing verticals. He said, "We understand both sides of the coin. Along with that, we are also one of the few players that employ a strategic approach to influencer marketing. The market trend, in general, is execution focussed."
Ramachandran of Whoppl told BuzzInContent.com that her agency acts as a brand extension, bridging the gap between influencer activations, content creation, and performance marketing. "We also have good content creation and management team and want our brand partners to form strong bonds with their target audiences."
Future growth prospects and challenges
IPLIX Media is now a 50-member+ team and completely bootstrapped. The agency recently expanded to the Middle East after signing on exclusive talent Yas Vocals and Mariam George from the region. In the next year, it aims to become a 100-member+ team.
Qoruz started as a two-member team back in 2015, and today it is a team of 60+ people across three cities. Mad Influence has grown from a three-person team to a team of 60 or more. It expects to have at least an 80-85 members team by the end of 2022.
Puri said, "Our team consists of 35 persons, with an average of one year of experience. I've always believed that your work should speak for itself, rather than what you have on paper. Many of our core team members are recent BBM and BBA grads who have taken this chance to hone their talents and make the most of the opportunities that have been presented to them. The team's average age is 23 years, and I believe it is a wonderful blend of energy, openness to new ways of working, new ideas, and the element of fun that keeps the team together."
Madhavan believes that while the competition among the influencer marketing agencies is increasing since the margins are spread among numerous agencies, we're also in a period where the industry as a whole is booming. "Every industry has its own set of challenges. It all comes down to how hard you work to stay on top and thrive. More agencies have emerged, as have many new full-time influencers, which is a good indication."
Panpalia of OpraahFX said that while many digital creators have been creating content since 2017, they saw a huge boom only during the pandemic. "Many creators grew by 10-15X during this period. Hence, we today are observing a huge surge in the number of influencer marketing agencies. There is a lot of work in the market, there are so many creators, and a handful of agencies may not be able to manage and execute it all. Hence, I believe it is a world of collaborative effort. We all need to work in collaboration and many of us rightly do so. The interesting bit is that many new agencies are now looking forward to creating their niche in a particular segment of influencers," he said.
Bhuvaneshwar of Qoruz emphasised that as the industry is ever-changing, it is important to stay updated with the current trends, be it adapting to newer formats, platforms, etc. He commented, "A simple example would be how in today's day reels make up for 70% of brand campaigns, which was not the case a few months ago. With the industry expanding horizontally, and newer collaboration methods between brands and influencers coming into play, as a platform, we make sure to stay updated by updating and integrating newer features to help make this process seamless for both brands and influencers."