With the world moving towards a cohesive digital approach, the popular creators and influencers who till sometime back were building their following on social media platforms have today become a force to reckon with in the world of business, many of them have begun turning to entrepreneurship to monetise their personal brands.
This trend has allowed influencers to have more control over the products and services they offer to their audience. In fact, in the current times, influencer-owned businesses today can be found in a wide range of industries - including fashion, lifestyle, health, fitness, and wellness, amongst others.
Ranveer Allahbadia
Ranveer Allahbadia who started his content creation journey as BeerBiceps on YouTube, and then went on to become a Podcaster, Entrepreneur and Investor, said, "Ever since college, I have always wanted to do something on my own and become an entrepreneur. After building BeerBiceps and Monk Entertainment, the aim to grow just became higher."
Currently, Allahbadia is a Co-founder at Monk Entertainment, BigBrainco. and Level.
In his interaction with BuzzInContent.com, Allahbadia also mentioned that being in the content creation and start-up industry he learnt how the space has been evolving at a rapid speed, he feels confident that his newest venture- Level Supermind - is already adding a significant value to his internet family.
"Meditation and Yoga-based workout techniques have been very integral to my own development. Globally, the market is sizable and we are building this product with an India-first, technology-first and consumer-first approach. Moreover, being a technology-based product, Level has unlocked a wide range of skills for me and the audience as well," he said.
Dolly Singh
Similarly, Dolly Singh started her career with iDiva as a fashion blogger and YouTuber and then went on to enter the world of Bollywood as an actor. Singh told BuzzInContent.com that her journey in the content creation space has been a 'wonderful surprise' as comedy happened 'accidentally' to her.
"Before content creation, I was a fashion blogger and I already had a blog and a YouTube channel and it was getting engagement, but nothing was going viral. However, when we started doing those iDiva videos, we went viral and people began to recognise the properties and characters. I was not obviously expecting it, but it has been a very good surprise and the following that I have today obviously was not anticipated but was definitely on the vision board," she said.
Recently, Singh collaborated with Rad Living and launched her exclusive collection of scented candles.
"I have always been very scared of having my own product, brand or anything because I don't want my followers to pay for anything and if at all they do, then it has to be of the best quality ever. I don't want to randomly launch a product which is not great and just has my name put on it and just sell it. I feel like it's a game that I don't want to play superficially and would rather want to give my all to it," she said.
Commenting as to how the experience of launching her exclusive collection fared out, Singh stated that the transformation has been great because choosing candles as the product for collaboration was something that brought her life to a full circle as she grew up in a family that runs a candle business. "It is like I am taking my family business forward in its own way," she said.
"The thing I was most nervous about was the audience's reactions and how much they will buy because, at the end of the day, it all depends on the purchases. But honestly, the response has been pretty phenomenal. Overall, I've just been so much more motivated and excited to come up with more things that I can sell to people and make them excited about it," she added.
Singh also went on to add that the idea just came to her on its own as she had earlier made a video on candles wherein she gave the candles several satirical names.
"Rad Living was one of the many brands that reached out to me after that video. I feel like it was the need of the hour as any creator would want to branch out into different revenue streams as just being a content creator is not enough and the much-discussed 'shelf life' is something that adds more stability," she added.
Prajakta Koli
Upon being asked whether she had foreseen the massive fan following that she has today, Prajakta Koli - who also started her career with MostlySane on YouTube and later went on to become an actor, said, "I think, any of the creators could not foresee that this would be the transformation that would happen to digital platforms in the future."
"But the favourite part of my job that I absolutely love is that I don't have sleepless nights. It comes with its ups and downs, but each one of them is exciting and each one of them has been a lesson that has helped me grow and learn more," she added.
Lately, Koli has been associated with MerchGarage platform wherein she has launched her official merchandise in the categories of sippers, mugs, phone covers, masks, t-shirts, sweatshirts, hoodies and Tote bags.
"Although this wasn't a very original idea, I did come up with the courage to pursue this idea. I always wanted to have my own merchandise because I loved wearing merchandise that belonged to my favourite channels, shows and brands and I could only aspire to build a brand with MostlySane that people would actually want to spend hard-earned money on putting my name on their chest. So, I think more than coming up with it, it was gathering the courage to do something like that, and without my MerchGarage team, I couldn't have been able to do it on my own," she said.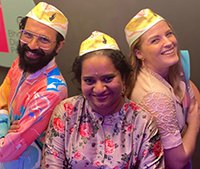 BhaDiPa
BhaDiPa, the group which started as a new form of expression in 2016 with rooted stories and Marathi content, told BuzzInContent.com that they began creating content when they had the urge to connect.
"We knew we would find space and make our own community of like-minded Maharashtrians, since there was a content void in Marathi, but we didn't imagine it to have such a massive following," the group said.
The group has also been associated with content creators merchandising platform, MerchGarage for quite some time now.
Commenting as to how the transformation from being a content creator to running their own merchandise feels, the group said, "We feel that it is the tribe that we have built and the community that we have grown with us that has pushed us to transform. It felt like we had the responsibility of keeping our audience entertained and to constantly churn out and tell stories and explore new voices, we needed systems in place."
"That is when we started looking into the business of content creation and turned to entrepreneurship. Once that was in place, we had the idea of launching our personal brand that would not only add to revenue streams but also help us be part of pop culture," the group added.
Furthermore, the group also went on to state that after a point in time, it is only collaborations that help in discoverability and reaching out to untapped audiences.
During the interaction, Singh also went on to state that the experience behind the candle collaboration felt like a reflection of her as a content creator. "I came up with all the names, taglines and the entire theme in addition to matching the names with the particular fragrance and micromanaging the entire photoshoot, video script and video shoot," she said.
"I think what works for content creation also worked in terms of this collaboration and even though I might not be the best in business, I know how to make and package a product well," she added.
Moving on, Koli also stated that the beauty of being a content creator is that she isn't restricted to choosing long-form, short-form, or static content and has the ability to do all three formats on different platforms.
"The biggest strength of being a creator is that I don't need to depend only on media splash or marketing as I can honestly put in the might of my social media platforms into selling something that I believe in," she added.
Additionally, the BhaDiPa group also went on to point out that they further plan to expand in the content industry in the years to come. "The best part about making videos and content is that it makes it easy to market it. BhaDiPa's marquee shows always have publicity and marketing campaigns around them and it helps us to pull in new audiences and reach Tier II and III cities with our content," they said.